According to Upwork, the world's largest freelancer platform (generates over $2 billion in yearly revenue by the way), From 2020 to 2021, overall earnings from freelance work in the U.S. grew by $100 million, with total earnings of $1.3 trillion. Traditional job search methods of local newspapers and in-person agencies are a thing of the past. Freelancing websites are not even the new-normal at this point, they're just normal. These websites offer a wealth of opportunities for those looking to work from home or break into the freelance world, as well as for those looking for experts to complete specific tasks for their business.
If you're on the other side of the coin Finding freelance work can be a daunting task, but with the right resources, it doesn't have to be. From creating a professional profile to preparing a CV or portfolio, the process can be overwhelming. When looking for a freelance platform, there are many factors to consider such as job quality, user experience, and recruiter quality. The following list of sites has been carefully curated based on customer reviews, job availability, and overall user experience to make your search for freelance work easier and more efficient.
Best Freelance Websites (The Go-Tos)
1. Toptal (Best for top-tier Talent)
The crown jewel of freelance work, Toptal is a freelance website that connects highly qualified freelance industry experts with organizations. And I mean HIGHLY and Exclusively qualified since only 3% of applicants get through to work using the platform. But once you make it past the rigorous 5-step application and screening procedure, you'll be matched with the best companies and big names like Google, Microsoft, Shopify, Airbnb, and so on.
Positions such as Developer, Designer, Finance Expert, Project Manager, and Product Manager are among the most common. Taso Du Val, CEO of TopTal stated in an interview with CNBC that the recruiting process is one-on-one, with candidates examined and approved personally at each stage. Surprisingly, the majority of Toptal's talent is based outside of the United States. If you think this is out of your league though, consider starting with the others listed below and working your way up. Let's move on to the next one.
2. Upwork (Best for dependable long-term freelancers)
Upwork has been tested and reviewed by many with more than average underwhelming results, so why is it second on our list? The reason for this is that it is a great platform for beginners to start their freelance careers. However, some clients can be hesitant to invest a lot of money and time on low-quality freelancers, so they tend to start with small, low-paying tasks to test the freelancer's skills. This can lead to some clients on Upwork themselves being seen as "low-quality", which isn't always the case. To address this, Upwork has introduced a feature that allows clients to post jobs for freelancers based in the United States only.
Here is a Tip, there is a feature called "Work Diary" which allows you to track the time your freelancer spends on the task, take screenshots of their work, and view their activity level. This feature can be useful in ensuring that your freelancer is working efficiently and effectively, and can also be used as evidence in case of disputes or issues with payment. Additionally, Upwork also has a built-in payment protection system that holds funds in escrow until the client is satisfied with the work and releases payment to the freelancer.
3. AngelList Talent *now Wellfound (Best for Startups)
AngelList is a website built just for startups. As you can probably tell by the name the platform is where angel investors, and job-seekers looking to work at startups meet. When hiring freelancers on AngelList, it's important to keep in mind that the platform is geared towards startup companies and early-stage ventures. This means that the pool of talent may be more experienced in working with startups and may have a different skill set than freelancers found on other platforms. It's also important to thoroughly review the freelancer's portfolio and past work experience to ensure they have the necessary skills and experience for your project.
One "secret" to keep in mind when using AngelList is that the platform has a built-in referral system. This means that if you find a freelancer through a referral, the freelancer may offer you a discounted rate or other incentives. It's worth asking if the freelancer you're interested in working with has any referrals, as it can save you money and also help ensure that the freelancer is a good fit for your project.
4. LinkedIn (Recommended)
LinkedIn is one of the most popular work environments, providing a basic method for obtaining positions in a variety of fields. It's more recognizable as a communication platform for experts to network and connect. Side note: You should have a LinkedIn profile regardless of your field, particularly if you're a Business Owner. Now that that's out of the way, why is LinkedIn ranked fourth on our list? LinkedIn may appear to be a social media site, but it is actually a search engine with 0.9 billion users! It also has a special place for talent on Linkedin Talent Solutions.
Posting a job on LinkedIn is a straightforward process. First, make sure you have a LinkedIn Recruiter account, which is a paid subscription that allows you to post jobs and access a larger pool of job seekers. Once you're logged in, click on the "Jobs" tab on the top navigation bar and select "Post a Job." Fill in the job title, location, and description, then select the appropriate job function and industry. You can also target your job listing to specific groups of people using LinkedIn's targeting options. Once you've finished, click "Post Job" and your listing will be live on LinkedIn for potential candidates to apply. Linkedin also allows you to Boost your job post to reach a larger audience and increase the chances of finding the right candidate.
5. We Work Remotely (Best for remote-Only Talent)
We Work Remotely is a job board where businesses advertise only work that can be completed remotely. Google and Basecamp recruiters use this site to find possible freelancers. Jobs are posted every several hours, and the site is quite busy. The website receives over 235K visits each month and has a fairly simple user experience.
The portal links people with high-caliber opportunities in corporations worldwide. As a result, you will get talent with ideally a higher degree and a lot of experience. To entice prospects, the site includes employer branding and company biographies, and it screens true distant freelancing tasks rather than ambiguous gigs. It's worth noting that recruiting businesses spend $200 to publish a single position for 30 days. This is a significant signal that the platform attracts people with high qualifications and skills.
6. Fiverr (Best to find fair Prices)
Fiverr got its name because it initially worked with fast independent gigs for $5 — but it's grown a lot since then. Many savvy freelancers use lower retail prices for minor activities to entice new clients. Similar to setting a small sample so that they will need to contact you for larger projects. You can directly contact the freelancer even before ordering a Gig which provides a streamlined method for you to interact the details of the project and if it's possible to proceed with a gig. It is worth noting that on the website, freelancers are referred to as sellers, their services as gigs, and business owners as buyers.
If you're looking to hire some freelancers but don't want to deal with the hassle of sifting through resumes and conducting interviews, Fiverr is your knight in shining armor. Sure, the quality of freelancers may not be top-notch, but with a user base as massive as Fiverr's, you're bound to find someone who can get the job done. And for all you freelancers out there, Fiverr is like a buffet of job opportunities – you'll find something for every skill set. Plus, Fiverr takes care of the money stuff for you, so you don't have to worry about chasing down payments or sending invoices. Just finish the job, collect your dough, done!
7. Freelancer.com (Best for Project Management and Collabs)
Freelancer.com claims that 80% of its positions receive an offer in sixty seconds or less! Now that's a bold statement. The size of this site implies that it is appropriate for a wide range of large and small tasks, and you can utilize the site's enrollment and venture the board specialists if you require some guidance. Because of the wide range of abilities, clients can easily locate a freelancer of any kind. It's one of the most direct freelance commercial centers on the web, so it's no surprise that companies like Amazon, IBM, and Google use it. It's also quite possibly the largest freelance-focused website – the organization claims to have a global pool of fifty million freelancers who have mastery of over 1800 distinct abilities.
Additionally, Freelancer.com offers a wide range of features such as project management tools, time tracking, and milestone payments, which make it easy for businesses to manage their projects and payments with freelancers. Overall, Freelancer.com's breadth of options and level of security makes it a unique and valuable platform for businesses looking to hire freelancers.
Best Freelance Websites (Industry Specific)
8. Mayple (Best for Marketing and Advertising)
We tossed in Mayple here because it's such a specialized one with massive potential for not only marketers but companies that need their voices to be heard. It is great for companies that need help with customer engagement and promoting their brand. Unlike other websites like Upwork or Fiverr, Mayple focuses specifically on marketing and has a group of experienced marketers to help take your business to the next level.
Apparently, companies such as Wix, Microsoft, and Amazon have reportedly leveraged it for marketing purposes. Their pricing table is very straightforward, with options such as Email Marketing, Social Media, Influencer Marketing, and a WYSIWYG dynamic pricing structure dependent on the customer's monthly budget. (The Media Package has a monthly minimum of $1,800.) As a result, this could be a great opportunity for you as well. Everyone wins
9. Behance and 99designs (Best for Design Talent)
Behance is like the fancy art school of freelance websites. It's where all the cool kids with mad design skills hang out and show off their portfolios. But don't be intimidated, even big names like Pentagram and Wolff Olins are on here! Just think of it as a virtual art gallery where you can browse through some seriously impressive work and maybe even hire the artist to create something amazing for your own business. It is famous enough to have a ton of projects yet underrated enough to have little competition with good-quality clients.
On the other hand, there is 99designs, a unique platform that offers a different approach to hiring freelance designers. Instead of browsing through portfolios and handpicking a designer, businesses can launch a design contest and receive multiple designs from various designers. This allows for a wider range of options and the ability to choose the best design that fits the business' needs. However, it's important to keep in mind that the process can be time-consuming and may not always guarantee the desired outcome. But, it's a great platform to have a variety of designs to choose from and for discovering new talents
10. Codeable (Best to find WordPress Devs)
Now, this is a little special in that it's a premium WordPress outsourcing platform based in Denmark. How's that special? The vetting procedure at Codeable is quite extensive, including written and live exams, a Skype interview, and even a trial period. This contrasts with generic freelance services like Upwork and Fiverr where freelancers are continuously pressured to cut their pricing in order to compete with others. Additionally, they only concentrate on WordPress Developers.
When it comes to pricing, developers will estimate an average cost depending on the number of hours it will take them, multiplied by their hourly rate. The sum of these individual estimations is divided by the number of developers that provided estimates. This prevents a "race to the bottom" and maintains a high standard of quality. You will be required to generate a work scope, as soon as you arrive at Codeable. The time it takes to do this and receive a response from a Codeable contractor is often under a day. The response usually includes further discussions before a quote is issued. If you're a business using WordPress for your website it's an obvious go-to, which is why it is on this list.
11. Flexjobs (Best for Flexible Arrangements)
FlexJobs is a job search website that specializes in providing telecommuting, flexible schedules, part-time, and freelance job opportunities. It is unique in that it focuses solely on these types of jobs, rather than a wide range of job opportunities like many other job search websites. Additionally, FlexJobs hand-screens and curates every job listing on its website, ensuring that all job opportunities are legitimate and high-quality, as opposed to many other job search websites which are not able to verify the authenticity of every job listing.
FlexJobs does not focus solely on freelance jobs, but its emphasis on flexible working implies that it has a large number of them listed. The organization disseminates data on the patterns and benefits of remote work adaptability indefinitely. According to a 2015 study conducted by FlexJobs, 76 percent of workers chose to work remotely when they needed to be useful while dealing with significant tasks.
12. GitHub and Stack Overflow (Best for hiring Devs)
Hiring developers on GitHub can be a great way to find talented individuals who are actively working on and contributing to open-source projects. Since GitHub is primarily used by developers to share and collaborate on code, it's a good way to find developers who are already experienced with the technologies and tools you're looking for. Additionally, by looking at a developer's contributions to open-source projects, you can get a sense of their coding style, problem-solving skills, and ability to work on a team.
Stack Overflow all the while can also be a great way to find talented individuals. Stack Overflow is a community-driven website for developers where they can ask and answer questions related to programming. This can help you find developers who are passionate about coding and eager to learn and improve their skills. Additionally, Stack Overflow has a jobs section where employers can post job listings and developers can search for job opportunities. This can be a good way to find developers who are actively looking for new job opportunities. The platform also offers a feature called "Work with us" which allows companies to showcase their culture, perks, and benefits that they offer which makes it easy for developers to understand if the company culture aligns with their values and if they'll fit in.
13. Linkedin Sales Navigator (Best to find Sales Reps)
Now, this is one you probably haven't heard of before. LinkedIn Sales Navigator is a powerful tool within LinkedIn that allows companies to find and connect with potential sales reps. It offers advanced search filters and Boolean search options, so you can narrow down your search to find the most relevant candidates. It also has a feature called "Recruiter Lite" that allows companies to post job listings and search for potential candidates. This can be a great way to find sales reps who are already active on LinkedIn and have built a professional network and reputation.
One of the key benefits of using LinkedIn Sales Navigator is the ability to see a candidate's professional network and connections, which can give you a sense of their level of experience and the types of companies they've worked with in the past. Additionally, you can see a candidate's activity on LinkedIn, such as the groups they're a member of, the content they're sharing and the conversations they're having.
14. Upcounsel (Best to hire related to Legal)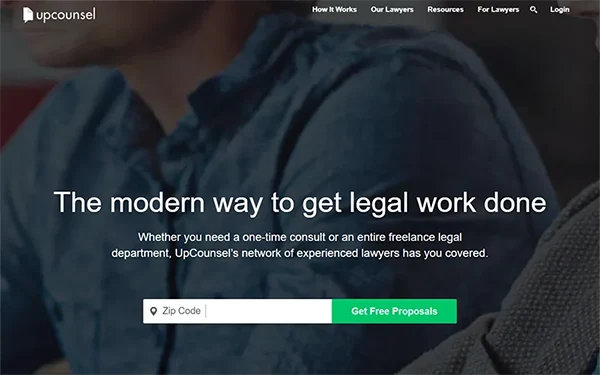 UpCounsel is a platform that connects businesses with top-rated legal freelancers. It offers a wide range of legal services, from drafting contracts and agreements to providing legal advice and representation. The platform pre-screens and approves all of its lawyers to ensure that they meet the highest professional standards, and have the necessary experience and qualifications to handle the specific needs of a client.
One of the main advantages of using UpCounsel is the ability to find and hire legal freelancers quickly and easily. You can search for legal freelancers based on their area of expertise, location, and hourly rate, and can also see reviews and ratings from other clients who have worked with them. Additionally, UpCounsel has built-in messaging. You can also access a pool of pre-vetted lawyers who are already familiar with your type of business, which can make the process of finding legal representation faster and more effective.
What to look for when hiring freelancers?
When hiring freelancers, there are a few key things to look for to ensure that you find the right person for the job. Some things to consider include:
Experience and qualifications: Look for freelancers who have relevant experience and qualifications in the field you're hiring for. This will help ensure that they have the necessary skills and knowledge to do the job.
Portfolio and work samples: Ask for a portfolio or work samples to see the freelancer's past work and get a sense of their style and quality.
Communication and availability: Make sure that the freelancer is responsive, easy to communicate with, and will be available when you need them.
Reviews and references: Check for reviews and references from past clients to see how the freelancer has performed on previous projects and if they have a good reputation.
Legal and financial aspects: Be sure to check their legal status, if they have a legal entity or not, and if they have a proper invoicing system.
To make the process easy and organized, it is always better to establish clear guidelines and expectations, set a schedule and deadlines, and have regular check-ins to track progress and provide feedback. Additionally, using tools such as project management software and online collaboration platforms can help you stay on top of your projects and keep all of your work with freelancers organized and in one place.
Why shouldn't I just hire in-house?
The cost of an in-house employee is that of benefits, office space, and other overhead expenses. But the cost of a freelancer? Merely the cost of their skill.
Hiring in-house and hiring online freelancers both have their own set of benefits and drawbacks. On one hand, hiring in-house employees can provide a sense of stability and control over the work environment. However, it also comes with added expenses such as benefits, office space, and other overhead costs. On the other hand, hiring freelancers can be a cost-effective solution as you only pay for the skills and expertise needed for specific projects.
Moreover, freelancers mean access to a global talent pool, connecting you with skilled professionals from all over the world that you might not have access to otherwise. They also offer flexibility, allowing you to scale your business quickly by hiring as many or as few freelancers as needed. Another benefit of hiring freelancers is that it allows you to focus on your core business while they take care of the rest. You can outsource non-core or administrative tasks, giving you more time and resources to grow your business.
•••
Some key points to consider when choosing a freelance website:
The niched, the better
Know the pricing structure
Site reputation and user feedback
Quality is key
Oh, and also competition is key
That's it – the rundown of the best freelance websites to find and hire skilled professionals for your business needs. Hiring freelancers don't have to be a daunting task. Most of these websites only require you to create an account and post a job listing. However, the platforms on this list will provide you with access to a vast pool of talent, making it easier for you to find the perfect match for your project and business needs.